All About Me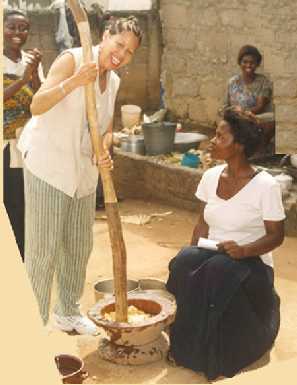 I was born and raised in Detroit, Michigan, and I'm a true product of the 1960's. I loved to read and I kept a diary for five years during my adolescence.

One day in fifth grade, my history teacher was talking about the different places she visited around the world. She had been so many places that she asked the class to see if they could mention a place she had never visited.

One by one she called on students, but nobody could come up with a country she had never visited. So I decided to give it a try. I knew one place she would never visit, so I raised my hand and uttered, "Africa."

"Who would want to visit Africa?" I thought at age 10. Everything I had read or heard about Africa, including the Tarzan movies, shaped my young thoughts against Africa.

I remember that incident today as clear as ever. But fast forward a couple of years to another classroom incident. Now I am in the seventh grade. The teacher asks each student to one by one explain to the rest of the class where their family came from.

I was one of only a few African American students in the class, and I was so embarrassed. I wasn't certain what country my family originally came from, but I knew it had to be in Africa, and I was ashamed to say it.

That time, I was saved by the bell. The bell rung and it was time to move on to our next class.

This incident makes a cameo appearance in the first chapter of my book, "Passage to Womanhood: Journey Home."

When I finally traveled to Africa, I fell in love with the countries I visited. The people, the culture, the land itself are full of beauty and life. What a homecoming for me.

And I was wrong about another thing. My teacher had been to Africa!

As a writer and educator, I have a long-standing interest in the history and literature of ethnic groups and women in the United States. I have been especially interested in how these groups have shaped our country's history and identity.

For several years I worked as an Educational Consultant and Project Developer for Girl Scouts of the USA. I developed a broad range of informal educational resources, and conducted workshops for volunteers and staff at Girl Scout councils across the country. I have been an adjunct English Instructor at City College and the College of New Rochelle in New York City, and at Paradise Valley Community College and Arizona State University West in Phoenix, Arizona where I now live. I currently teach at South Mountain Community College which is part of the Maricopa County Community College system in Arizona.

I offer my consultant services to private and public organizations and school districts across the country.